The Old Post Office – Washington, DC
Getting the shot
The Old Post Office had just closed it's doors for good a week prior to my DC visit, but I was unaware of this when I walked up to its steps. "I'm sorry" the security guard says, "but I can't let you enter". Fair enough, I thought, but lets see if there's another way around this. I asked to speak to the building manager, and after a pleasant conversation over my purposes and uses of the photos, he permitted my access to his building.
The steel lattice superstructure spanning over the abandoned court area echos back to the hay days of the Pittsburgh Steel industry.
Making my way up to the bell tower, I find that all vantages are blocked by vertically safety cables (with only 2 inches of separation between each cable).  Fair enough, I thought, but lets see if there's another way around this. So, I take my thick Nalgene water bottle, which is about the same circumference as my Nikon 14-24mm, and I wedge it between the wire cage obstructing my view (only lightly scraping the hood of my lens).
Lesson:
Don't be afraid to try, as we miss 100% of the shots we never take.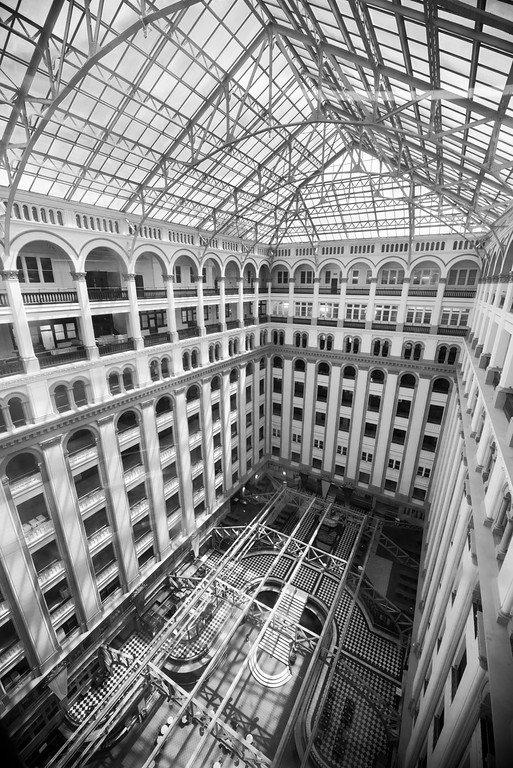 Some interesting facts
Before it was re-branded as Trump Hotel DC, this building had it's own great American beginnings.
The Old Post Office Pavilion is an example of Richardsonian Romanesque, part of the Romanesque Revival architecture of the nineteenth century United States. It was completed in 1899, and is a contributing property to the Pennsylvania Avenue National Historic Site.  Additionally…
used as the city's main post office until 1914.
functioned primarily as an office building afterward
nearly torn down during the construction of the Federal Triangle complex in the 1920s.
nearly demolished again in the 1970s to make way for completion of the Federal Triangle.
Major renovations occurred in 1976 and 1983.
The 1983 renovation added a food court and retail space and the building was renamed the Old Post Office Pavilion.
An addition was added to the structure in 1991.
In 2013, the U.S. General Services Administration leased the property for 60 years to a consortium headed by "DJT Holdings LLC", a holding company owned by Donald Trump through a revocable trust
Trump developed the property into a luxury hotel, Trump International Hotel Washington, D.C. which opened in September 2016.