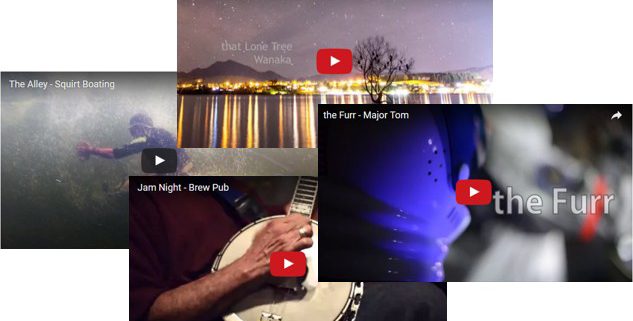 A small collection of short videos I've made over the last year +
In May of 2015, I took a sabbatical to adventure around the South Island of New Zealand. I had made no plans or expectations for this trip, keeping each day and night as a surprise waiting to be unwrapped. This short video is a compilation of around 3000 photos I took of the night skies from the different places I camped and explored. I shot these with a Nikon D800, with each frame being a 30 second expose. My camera settings varied slightly from night to night, but in general I shot at 14mm, f2.8, with and ISO of ~3200 +/- . Please comment of message me for any additional questions or photo beta.
---
In the Alley of the Cheat Narrows, is the Ballroom…an underwater mystery of turbulence and finesse. Prototype squirt boat, by Jim Snyder.
---
Jam Night at the Brew Pub
---
Published on Dec 4, 2015
another Monday night at Jamie house – the Furr :
Eli Pollard (lead vocals, theremin, guitar)
Francisco Amaya (guitar, backing vocals)
Jarrod Ott (bass)
Liz Pavlovic (drums, vocals)
"The Furr was born out of our members' united love for a mixture of short, fun, loud rock ditties and improvised dadaist jams. We pay homage to some of our favorite songs by covering them with large blankets. We want to put a lima bean in your fannypack". –https://thefurr.bandcamp.com/
---
Jamie Lester sculpting a clay figure of Tara. Music short by New God, titled Firework.
Artists:
Sculptor: Jamie Lester – http://vandaliabronze.com/
Video/Post: Gabe DeWitt – https://www.1gabe.com
Music: New God – http://new-god.com/
Model: Tara Smith – http://www.tara-earth.com
---
A short compilation from this years Fasnacht – an attempt to captures some of the spirit that lives in Helvetia, WV.
---
Tara went on a night dive the other night, and afterwards she dropboxed her video files to me. So, I thought I'd make a little highlight real from her underwater adventure for her to share..
Music is Bloodflood by Aly-J
---
Friday evening with friends…drawing…painting…making pretty things.
---
On Friday night (2/21/15) in the sub-zero air, my friends and I skied out to the overlook at Coopers Rock, WV. What I captured was a strange phenomenon, known as Light Pillars. I made a short 20 second video from the photos, and Anna wrote her account of our cross country skiing adventure. I've posted it on my blog at https://www.1gabe.com/light-pillars/ . Check it out if you get a chance! …and feel free to share this unique view of West Virginia!!
---
This is a time lapse video of our Alaska adventure in March, 2014. I used only photos taken with a borrowed GoPro and my D800. The aurora images were captured during some of the last peaking activity of 2014. It'll be another 11 years until the Aurora's intensity and predictability will align so well again, at least to warrant another adventure geared specifically for Aurora viewing. Additionally in this video are several Alaska Cabins we stayed in (of Tara and I painting), along with a some time lapse shots of the sun setting, and the moon rising. Music by Emancipator – Eve
see photos from this trip at http://www.wv-art.com/Photography/Locations/Alaska
---
While camping near Long's Peak on 6/29/14, I sat my camera outside my tent for several hours to capture the clear view of the stars from the high elevation. I took 15 second photos ever minute for about 4 hours, and then stitched them together in Premier. Sound bits are from Emancipator – First Snow
https://www.1gabe.com/wp-content/uploads/2016/05/Video_Shorts.jpg
382
633
Gabe DeWitt
https://www.1gabe.com/wp-content/uploads/2016/07/Gabe-DeWitt-Logo_Large-300x225.png
Gabe DeWitt
2016-05-09 20:38:29
2016-05-09 21:03:20
Video Shorts