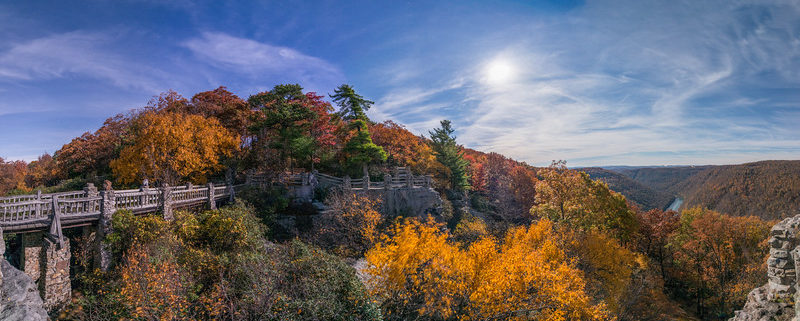 The moon has been rising just as the sun sets the last week or so, and each night has been brighter than the next. I've been watching the radar for a decently clear night the past few evenings, and last night the moon seemed to be shinning extra bright.
I drove up to Coopers Rock a couple hours after sunset to see if I could capture some of the remaining fall foliage.  I brought my bike, thinking that I'd have to peddle out to the overlook from the first gate, but I guess with the addition of the new gate by the overlook they appear to only lock that one (while the park is still in season). So, it was a very short hike from the last gate to the overlook…which is kind of lack luster toward the adventure side of things, but ease of access is nice sometimes (especially when you have to work in the morning).
The first thing I noticed upon arriving, the lack of people, obviously. But, I find it funny how during the day throngs of people come to Coopers Rock, especially during the beautiful autumn days, but the nights seem totally forgotten.  Save for a select few…there were a group of trail runners just starting out as I pulled in…a perfect night for a run! Once the sun goes down, the majority of people seem to be done playing outside. Sometimes we need a reminder that the outdoors at night has many beautiful things hidden…things that can't be seen in the light of day.
With camera and tripod in tow, I biked the few hundred yards to the overlook. The mountain air was warmer than I thought it would be, but there was a cool breeze blowing in. The moonlight was so bright that a head lamp wasn't needed to find my way.
I only took a few pictures, as the gusting air caused too much movement in the tree tops for me to be completely satisfied with my shots.  One of the things about shooting at night is that I use longer shutter speeds to capture the available light…anywhere from 4 seconds to 30 seconds…but the moving tree tops created some neat effects in some of the images.
Tonight, October 27th, will be a full moon. So, if this cloud cover goes away I highly suggest getting outside wherever you're at and enjoy the October Sky!
Also, with Halloween a few days away, the moonlight will still be very bright…so perhaps a night hike under the moon out at Coopers might be just the right amount of spookiness and prettiness…just a thought…
And, just for some contrast, here's a photo of the same location under a winter's full moon from earlier this week.
https://www.1gabe.com/wp-content/uploads/2015/10/Moonlight-Autumn-Coopers-Rock-WV-21-L1.jpg
363
800
Gabe DeWitt
https://www.1gabe.com/wp-content/uploads/2016/07/Gabe-DeWitt-Logo_Large-300x225.png
Gabe DeWitt
2015-10-27 14:07:49
2016-04-23 20:50:19
Moonlight on Coopers Rock